The pillaging of occupied territories by Nazis was not limited to isolated incidents of looting; it reflected a systematic policy. On 29 January 1940, Hitler appointed one of the most influential Nazi Party ideologists, Alfred Rosenberg head of an organisation tasked with appropriating works of art in European countries. Formed within the Nazi Party's foreign policy department, the new organisation was named the Reichsleiter Rosenberg Taskforce (ERR).
Seizing books, religious treasures and works of art, the Nazis kept track of the looted items in inventory books, which helped the prosecution at the Nuremberg Trials provide proof of the theft perpetrated by the Nazi regime.
The US forces discovered 39 volumes of inventory books containing 2,500 depictions of looted items.
From 1940 until 1944, some 21,903 paintings and works of decorative and applied arts, including the works of ancient and oriental authors, were stolen from Western European countries. It order to properly catalogue all of the stolen items, at least 400 such volumes would have been required.
Despite the fact that the ERR was tasked with confiscating the property of the "enemies of the Reich", Jews first and foremost, the organization's activities affected all residents of the occupied territories, with the Nazis raiding apartments indiscriminately.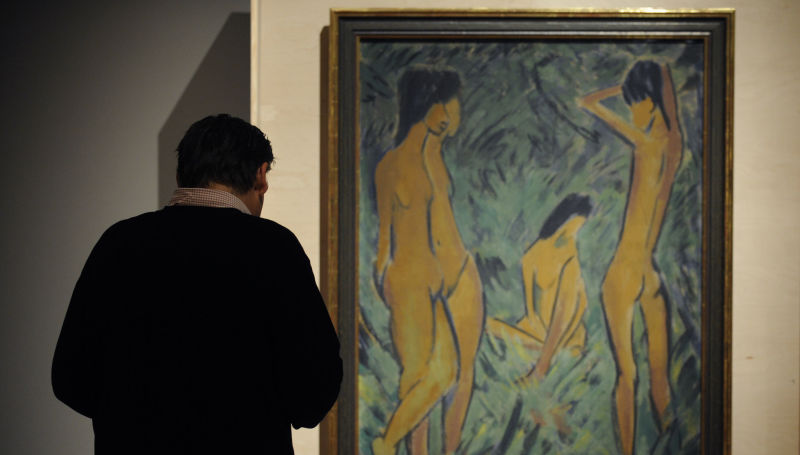 A copy of a report by the head of the ERR's western department, which was presented by the US prosecution at the Nuremberg Trials, features the following figures regarding the capital of France: in Paris, the Nazis confiscated property from over 38,000 apartments, using about 150 trucks in general to transport the confiscated items and about 1,200-1,500 workers to load them; some 36,000 railway carriages were used to ferry the looted items to Reich.
The pillaging was not limited to works of art and personal items, as 178,569,550 tonnes of raw materials and industrial equipment worth 9,759,861,000 franks were moved from France to Nazi Germany.  
The Nazis also looted millions of tonnes of foodstuffs from the country, including 460,000 tonnes of dry and condensed milk, 49,000 tonnes of cheese and 87 million bottles of champagne.
According to the Soviet prosecution, the Nazi invaders destroyed over six million buildings in the USSR, including 427 museums and 2,508 churches and synagogues. Some 10,000 works of art were stolen from Estonia alone; about 100,000 precious books were appropriated in Riga, and over 4 million books and manuscripts were appropriated from Kiev.
During the trials, the indictment named Norway, Belgium, Netherlands, Luxemburg, Poland, Hungary, Yugoslavia, Greece and Czechoslovakia (whose entire gold reserves, about 23,000 kilograms, were stolen by the Nazis) as the countries that suffered the most from the Nazi pillaging.